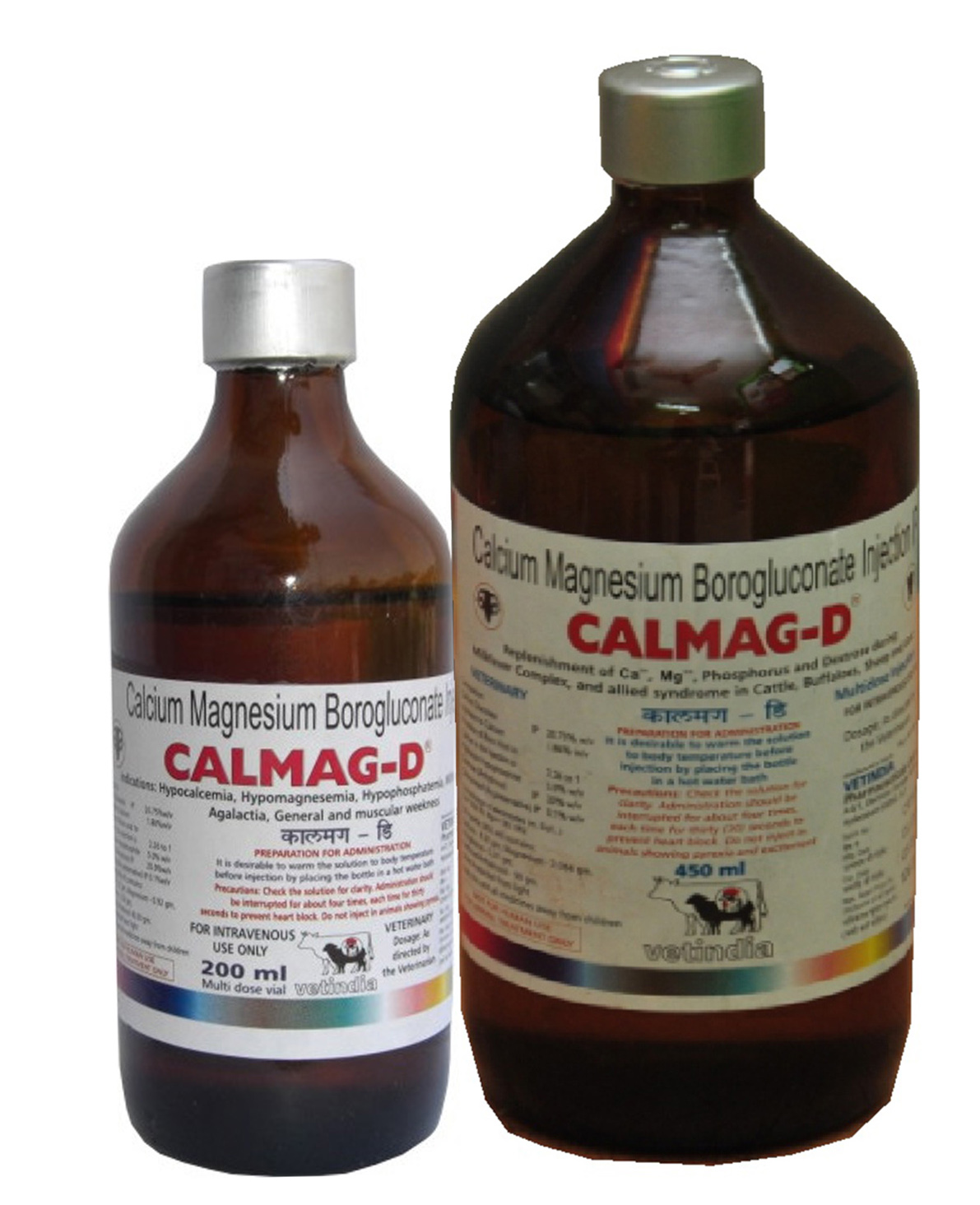 Composition:
Calcium Gluconate - IP - 20.75%w/v
Equivalent to calcium - 1.86%w/v
Proportion of Boric Acid to
Calcium in the injection is - 2.26 to 1
Magnesium Hypophosphite - 5.0%w/v
Dextrose (Anhydrous) -IP - 20.0%w/v
Chlorcresol - IP - 0.1%w/v
(As preservative)
Indications:
1. Milkfever complex in cattle and syndrome like a) Hypocalcaemia; b) Hypo magnesaemia; c) Hypophosphataemia; d) Hypoglycaemia e) Paraplagia.
Concentrated dextrose in Calmag – D helps to maintain protein and carbohydrate metabolism during lactation and combats acetonemia
Calmag – D offers calcium, Magnesium, Phosphorus and Dextrose in the most ideal proportion to meet normal requirement of the lactating cows and buffaloes
Dosage :
Cattle and Buffaloes: 200 to 350ml
Sheep and Goat: 35 to 75ml
Preparation and Administration:
It is desirable to warm the solution to body temperature before injection by placing the bottle in a hot water bath
Calmag – D is given slowly through intra-venous route. Administration should be interrupted for about 4 times. Each time thirty (30) seconds to prevent heart block.
Precautions:
Check the solution for clarity, leakage and breakage.
Don't inject in animals showing pyrexia and excitement.
Calcium and magnesium ions if injected rapidly may cause coronary depression.
Hence it is advisable to administer slowly with few interruptions.
Presentation:
Glass bottles of multidose 200ml & 450ml